Neighborhood Spotlight:

Frick
Frick is the neighborhood just to the southwest of Mills College and is comprised of a solid working class community. Homes here are largely from before the World War II era and are relatively well-cared for.  Many of the California bungalows boast bushy topiary arranged on the front lawn and many streets are very pleasant.
The neighborhood uniquely benefits from its proximity to the adjacent 135 wooded acres of Mills College. This historic women's college established in 1852 is not just picturesque, it offers many cultural opportunities to the public including concerts and art exhibitions. In keeping with its initial mission of training teachers, the Mills campus also contains a children's school, preschool, and summer camp. Although a private institution, admission is open to the public.
Another positive aspect of the community is the local charter school, Unity High. Unity High has an excellent record of taking low income students and preparing them for college. 9 of 10 students graduate (far higher than the Oakland average) and 2/3 successfully enter college.
Fun Fact: I actually attended K-8th grades in the 1970's at a school named Redeemer Luther School – which is now the site for the new Unity High Charter School!
<<Gallery>>
---
Area Map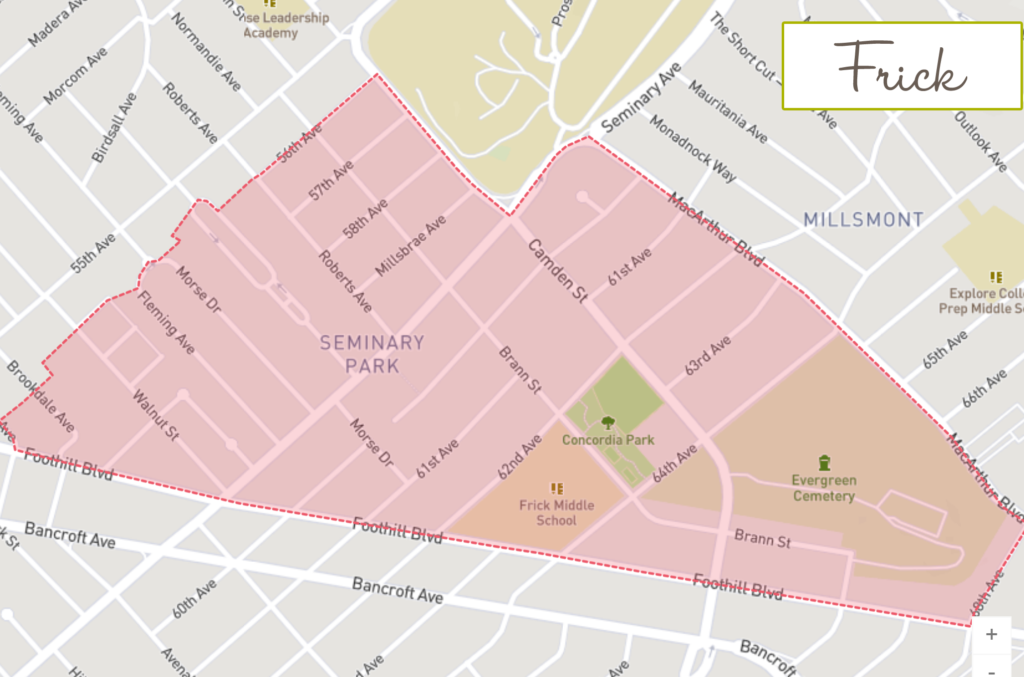 Properties
Frick Condos/Townhomes for Sale
Frick Area Open Homes (SFR and Condos)
Stats
1st Quarter 2018
2nd Quarter 2018
3rd Quarter 2018 (est. October 2018)
Questions about your (or any) Frick area home? Contact me!